Did you know that you can learn STEM on an adventure walk? We often need to get outside to go for a walk, play and explore.  This happens rain, hail or shine! This is an example of an indirect STEM activity where you can provide engaging and enriching activities just from being outside. None of these activities lasted more than 5 minutes and they were all done during a 1 hr walk following a river. But STEM can really be that easy.
Related reading: Learning STEM at the strawberry farm
Here are 8 STEM concepts which we learnt on our adventure walk.
*This page may contain affiliate links to products I recommend. If you purchase something from this page, I may receive a small percentage at no extra cost to you. To find out more please read my disclaimer and privacy policy.
1. Problem Solving
Crossing a river pathway on rocks is the perfect opportunity to problem solve. You need to find a pathway across by ensuring each rock is stable and will hold your weight so that you do not get wet. There are many options for each pathway and practice makes the best opportunity to learn how to do this and problem solving is a critical cognitive skill used in STEM. You don't always just need to pick the largest rocks.
2. Balancing
Balancing objects on top of each other is a way to learn the physics concepts of gravity, force and motion. We balanced a seed pod on top of a leaf to see how long we could get it to stay in the centre. This was quite a tricky activity as the leaf was very flimsy in comparison to the seed pod and had to be positioned centrally for this to work.
3. Classifying                        
Classifying objects is a concept required for pre-coding skills. We classified flowers and seeds based on their colour, type and size. There are so many ways you are able to do this and your objects can lead you to discover many different features about each one.
4. Currents
The day we visited this creek it had been raining and it was particularly easy to spot the difference in flow rates in the water. You could do this just by looking as there were sections that were glassy and sections that were quite turbulent. We also ended up putting our football into the water to watch it travel downstream a short way by the current.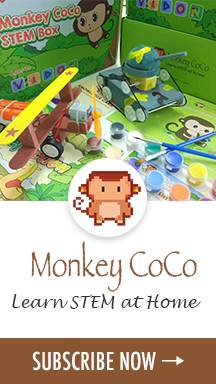 5. Sink or Float
An age-old learning activity is 'will this object sink or float'? What better way to do this than in nature. You can find objects like leaves that will float on the top and then try something like a stick or rock that will sink to the bottom.
6. Structural Integrity
Creek banks make for some very interesting learning objectives if you are prepared for your kids to get slightly wet! There are sections of the creek that will collapse under your weight, but those which have reeds or plants growing out of them make the bank stronger and you are able to cross at these locations. This is a pivotal engineering concept used in civil engineering.
Related reading: Building a tower that will withstand a weight placed on the top.
7. Measurement
One of our kids found a really long lily that she loved carrying around. We used it to compare heights to see who was taller than the lily. This measuring of length is an important mathematical concept for preschoolers to learn.
8. Motion
There is a section of the river that has man-made barriers to slow the flow of water. Interestingly these are curved up the riverbank to assist the flow of water into a central point. We were able to discuss water management because of this design.
Conclusion
Next time you are outside see what STEM activities you can engage your children with. You might be surprised how many you can do.